What is Mercedes-Benz COMAND®?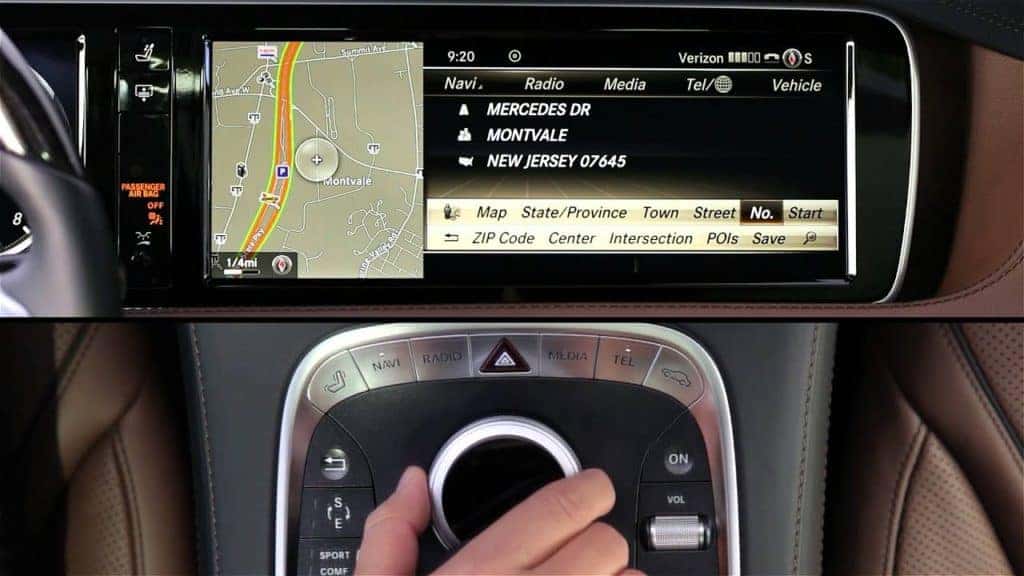 All Mercedes-Benz vehicles are packed with innovative technology to make your ownership experience easier and more convenient. Whether for safety, driving assistance, or entertainment, you can expect the best. That includes the Mercedes-Benz COMAND®.
What exactly is COMAND® and what does it do for you? Here's an explanation of Mercedes-Benz COMAND® from your local dealership in New York, Mercedes-Benz of Goldens Bridge.
What Does COMAND® Stand For?
If you're looking for infotainment on Mercedes-Benz infotainment systems, you've come across the name COMAND®. It isn't spelled wrong – it's an acronym. It stands for Cockpit Management and Data system. It's the center of all infotainment, comfort, and convenience functions in your cabin.
COMAND® systems include GPS navigation in a touchscreen display mounted on the dash. Integrated into the Mercedes-Benz COMAND® unit are your address book, phone functions, radio and audio sources, and a CD/DVD player.
Mercedes-Benz COMAND® Functions
The COMAND® display may be either mounted high on the dash as a freestanding unit, or it could be integrated into the center stack. Either way, it's a wide-ratio touchscreen color display that lets you control many of your vehicle's functions in a central hub.
Also integrated in Mercedes-Benz vehicles with COMAND® is a COMAND® Controller. It operates much like a computer mouse, moving on three axes as well as rotating. The COMAND® Controller is ergonomically positioned ahead of the center console within easy reach of the driver.
COMAND® Navigation is standard or available on most upper-tier models. Through 3D maps, points of interest, and turn by turn directions, you'll always find the right route to your destination. If you have the mbrace mobile app, you can send directions to the COMAND® Navigation system also.
With COMAND®, you can:
Place and receive phone calls hands-free. Using Bluetooth connectivity with your smartphone and scrolling through the phonebook downloaded from your device, you can place and receive calls without taking your hands off the steering wheel.
Integrate your smartphone. Apple CarPlay and Android Auto are part of the COMAND® system. When you've connected your smartphone to COMAND®, your display will mimic your phone screen so you can use your favorite apps while you're in your car.
Stay connected. Wi-Fi connectivity is an option for Mercedes-Benz COMAND® systems so passengers can pair their devices while you're on the go. The COMAND® display can also be used to browse the internet using the COMAND® controller while you're at a stop.
Which Vehicles Have COMAND®?
Interested in a Mercedes-Benz vehicle with COMAND®? You're in luck! Most models are equipped with COMAND® either as standard or as an available option. That includes the CLA, GLK, S-Class, M-Class, and even the AMG®-GT. It pairs well with the incredible sound systems such as Burmester Surround Soundsystem.
In Westchester County, NY and the surrounding area, you'll find the complete range of Mercedes-Benz vehicles to test drive at Mercedes-Benz of Goldens Bridge. Explore all the features, benefits, luxury, and safety that Mercedes-Benz vehicles have to offer.